Orthodontic Dentistry
– By Orthodontic specialists team

Metal bracket
Metal braces is the conventional and the most commonly chosen orthodontic option. Metal bracket is fixed in front of the teeth and threaded through the holes with metal wire, and then tighten with color O-rings to move the teeth. Monthly appointment is made to change the O-rings. We choose Japan and US equipment to provide high quality services to our customers.
Service fees:

40,000-50,000 Baht


Damon Braces: Metal and ceramic brackets
*less pain and less time orthodontic
Damon is an innovative orthodontic that takes shorter period of time, more comfortable and requires less extraction. Damon system is a self-ligating orthodontic technology medically certified that takes less time and more comfortable to the patients while the result is much more content than other common orthodontics.
Advantages of Damon Braces
Damon braces take less time and cause less pain because of low-friction brackets and hi-tech light-force archwires from passive self-ligating technology.
- The teeth move more quickly so less time is used.
- Patients feel more comfortable and have got lesser pain than other common
orthodontics.
- Minimum extraction and help to adjust patients' face shape.
- Easy to clean so decayed teeth and gum diseases are reduced.
- Less dentist visit as it is not necessary to change O-rings on monthly basis. It is
good for working people.
- Suitable for all ages and genders, especially the patients who do not want to have tooth extraction and working people who panic of orthodontic pain.
- Metal brackets and clear ceramic braces are available.
Starting rate:

65,000

Baht


Invisalign (USA.)
- The innovative orthodontic that requires no bracket.
- The aligner is clear, thin and fit with the tooth morphology, easy to insert and remove
for cleaning.
- Use 3D Computerized Digital Imaging to design individual aligner and have it
produced meticulously in a USA laboratory.
Starting rate :

69,000 Baht

(0% credit card installment is acceptable)


Orthodontic and Surgery
Jaw dislocation/chin forward/chin backward/left jaw and right jaw are uneven/inability to make upper teeth and lower teeth meet because jaw bones have been grown up irregularly. It may be subject to individual gene or some childish behavior such as thumb sucking and tongue pushing teeth, etc. If the case is so critical, orthodontic and surgery shall be done together to better solve the jaw structure problem and improve the face shape.
Orthodontic starting rate:

80,000 Baht
(2 phase orthodontics)
Surgery staring rate :

60,000 Baht
(depend on the chosen hospital)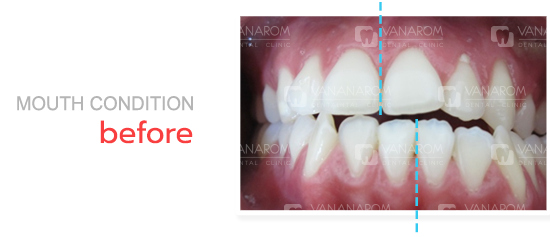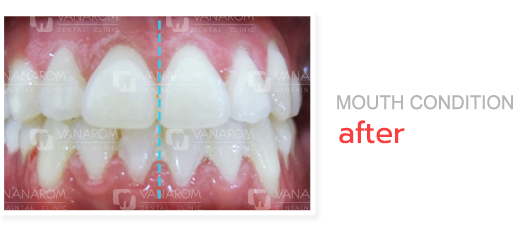 * For getting surgery, various private and governmental hospitals are optional.

Children Orthodontic
*Resolve face and jaw related problems faster, easier and cheaper.
- Occlusion directly affected the development of face shape and jaw so children with normal occlusion will grow up well with proper face shape. But malocclusion such as under bite and open bite that caused from thumb sucking or wrong way swallowing as per below figures may cause bad development of the face and jaw.

These types of malocclusion may obstruct the development of upper and lower jaws and affect future shapes of face and jaw development, and future occlusion. Adjustment at the early stage will give better results and much easier for performing. It is far better than waiting until the children are grown up and the only possible way to solve the problem is to adjust the occlusion.
- Orthodontic in children age between 6-15 years old will help to solve the problem at the early stage. In some cases, patients may need not to get orthodontic again when they grow up. If orthodontic need to be done when they grow up, it will be easier, take shorter period of time and save cost while the result become really great.
- In conclusion, the adjustment is required to relocate the jaws into appropriate positions to make faces and jaws developed properly.



Retainers
There are numerous colors and styles of retainers available at Vanarom dental Clinic.
2,500 Baht per piece

Total

5,000 Baht
The retainers at the clinic were produced by specialists in a quality laboratory under the supervision of the dentists and made with standard materials.